Starting a profitable dropshipping business isn't as easy as many eCommerce enthusiasts tend to believe.
Dropshipping is an easy concept that needs excellence in research and study of the respective markets and products you wish to deal in. That is if you want to have a successful online business.
It involves finding an appropriate supplier, finding the right products to sell, and virtually putting these products into your dropshipping store for marketing purposes.
Once a client pays for the product on your online dropshipping store, you then order the identical product from your supplier at the supplier's asking price. You retain the profits and pay for what the supplier charges for the product.
But achieving all these is never easy without the help of AliDropship, an AliExpress dropshipping plugin.
In this AliDropship review, I'll explain everything about the plugin – what it does, how it works, and more!
What is AliDropship?
AliDropship is a WordPress dropshipping plugin that allows you to set up your dropshipping store and sell products from AliExpress without having to handle or touch any of these products.
You can also use this plugin for other eCommerce platforms like Shopify, WooCommerce, etc.
With the help of AliDrophip, starting an AliExpress dropshipping business has never been easier.
So, if you've been looking for an eCommerce platform to help you choose, organize, import, and manage inventory, then AliDropship is the way to go.
The same team that created AliDropship also created Sellvia, an eCommerce ecosystem and supplier for the US market. If you are looking for an eCommerce platform that is geared exclusively to delivering products within the United States, check out Sellvia.
AliDropship Services Explained
The AliDropship plugin has several services you can select to make your eCommerce experience as smooth and straightforward as possible.
However, it's not always a straightforward process picking up the ideal service for your own business.
I understand this, and I took the time to break down four primary services for you to have an easier time picking the ideal solution for your business.
AliDropship Plugin
The first service you receive is the AliDropship WordPress plugin which allows you to create your AliExpress dropshipping store without worrying about inventory, product listings, shipping & fulfillment, etc.
The plugin is simple to use, and you can have your store up and running in minutes.
You'll be able to source products from AliExpress and have them dropshipped directly to your customers.
This dropshipping plugin also includes several premium features like automatic order tracking, product variations, Oberlo importing, etc.
Overall, the AliDropship plugin is an excellent solution for anyone looking to start their own dropshipping business from scratch and build it to perfection as they learn.
If you're looking for an easy way to get started with AliExpress dropshipping, the AliDropship plugin is worth considering.
Custom Stores
The AliDropship plugin also includes the ability to create a custom dropshipping store. This means you can design your store exactly how you want, add your branding, and choose from a range of premium templates.
Creating an AliDropship custom store is a great way to set yourself apart from the competition and give your business that extra edge.
In an eCommerce world where every tiny detail of what you're selling matters, you can fully optimize the benefits of these custom stores to create unique products.
But if you don't have the expertise for custom store development, there's no harm in hiring a project manager to do all the work for you while consulting you all the way.
The personal manager will work with you through the critical stages of the project, including product and competitor research and analysis. They'll also keep you abreast with any updates on your custom purchase, so you never miss out on new things.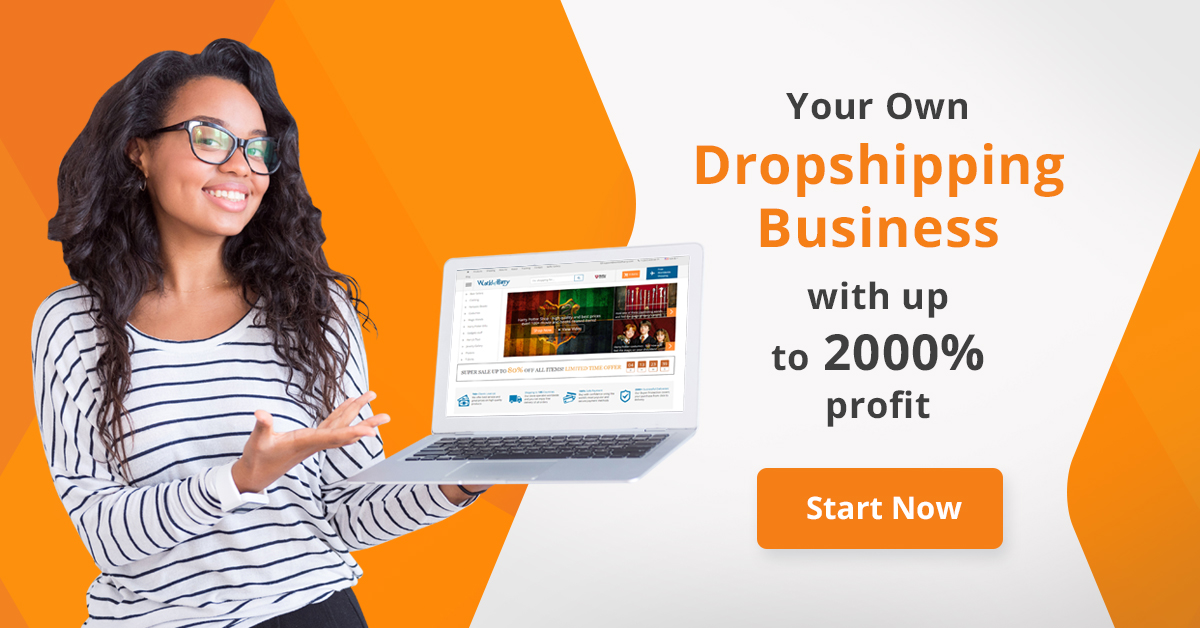 Premium Stores
If you're looking for an ideal replica of an AliExpress dropshipping store that AliDropship owns, then you'll want to go for the AliDropship Premium Stores.
You can trust this service to get the job done right. The Premium Store will provide you with unique AliExpress products, inventory management, and the exact marketing strategies used at AliExpress to make the store as successful as it is.
A premium store is ideally optimized to help you gain maximum profits immediately you have it up and running on your website.
What's more, you don't have to scratch your head hard when choosing ideal products to showcase on your dropshipping store when using the premium store. The store comes already packed, tried, and tested best sellers in the respective niche you're dealing with.
Also, you'll barely invest in costly ads as this premium store comes with highly-ranked money-making ads that will see customers flocking your website to place orders.
Therefore, if you need more grasp of your dropshipping business, using a premium store can help you achieve your goals faster.
Get 15% off on Custom and Premium Stores with the code GETSTORE15.
AliDropship Established stores
An AliDropship Established Store is the perfect solution for you to take your business to the next level.
When it comes to the AliDropship established stores, you can purchase an established eCommerce business and store that are already making some profits.
In other words, you're investing in an already established dropshipping business rather than starting everything from scratch.
The advantage of doing this is that you get full ownership of a business that has a reliable business model. You also get to enjoy the freedom of being your boss. In addition, you can easily grow the store by adding new products, categories, or offers that are related to what you're already selling.
What's more, you have a better chance of ranking higher on Google when you buy an established dropshipping store. This is because the site comes fully optimized for Google rankings, and you'll have access to all of the site's traffic data so you can see what's working and what needs improvement.
While it could cost more to own an established store, it's a more foolproof way to start and grow your dropshipping business.
AliDropship vs AliDropship WooCommerce
There are many factors to consider when choosing between AliDropship WooCommerce and the standard plugin.
The biggest difference is the number of products you can add when using either plugin. With AliDropship you can add as many as 10,000 products while AliDropship Woocommerce only allows you to add up to 500 products.
Plugin installation is also a little more complicated with AliDropship WooCommerce, as you need to install both the plugin and the theme. However, AliDropship provides excellent customer support should you run into any problems during this process.
The AliDropship standard plugin version allows you to keep your store looking sleek and professional, without any of the hassles of installing WooCommerce and setting up a theme.
Plus, with the AliDropship Chrome extension, you can easily import products from AliExpress into your store in just a few clicks.
But in what circumstances should you use the AliDropship Woo plugin?
The AliDropship Woo plugin is effective in the following circumstances:
When you have a profound grasp of Woo-commerce and know what it can do for you.
When you want to integrate AliDropship with other plugins or Woo themes.
If you're looking for more features and functionality than the AliDropship plugin offers.
When you already have a WooCommerce online store and want to quickly, efficiently, and effortlessly stock it with AliExpress products.
If you're okay working with a maximum of 500 products on your WooCommerce website. If you exceed this range with content items or WooCommerce queries, your server will be overwhelmed, and the database will be clogged.
On the other hand, using the AliDropship standard plugin is recommended if:
You're starting your eCommerce store from scratch.
You are looking for a dropshipping solution that contains all the requisite features in a single package.
You're new to eCommerce and don't want the hassle of having too many products.
You want to share up to 10,000 products on your site and increase the chances of getting a continuous flow of business.
Choosing between the two plugin options depends on your specific needs and preferences.
But, if you're looking for more features and a better overall experience when it comes to dropshipping with AliExpress, then the AliDropship Woo plugin is the way to go.
However, if you're looking for a more lightweight and beginner-friendly option, AliDropship's original plugin is probably your best bet.
AliDropship Plugin Features
Numerous outstanding features come with the AliDropship plugin.
Some of these features include:
Currency Conversions
With the AliDropship plugin, you'll never have to worry about currency conversions ever again.
Every product that you import into your dropshipping store will automatically be converted from USD prices to the desired currency of your choice.
This allows for a better user experience and less confusion when browsing through products on your site.
You can also use this feature to set up reasonable prices for every region while incorporating factors such as the psychological principles of pricing.
This helps to woo more customers into buying your products from different geographical setups.
Built-In eCommerce Themes
AliDropship plugin comes with more than 20 in-built themes that you can use directly to set up your dropshipping store.
These themes are designed by experts and are carefully crafted using the latest HTML/CSS technology to ensure high-quality results for all users, regardless of their previous coding experience.
You can also use the theme customizer to edit them according to your needs so that you can easily target a specific audience with your products.
Abandoned Cart Recovery
A common issue that most online store owners face is a high cart abandonment rate. When customers add items to their carts but never check out and purchase them.
AliDropship plugin comes with an in-built feature for abandoned cart recovery, which you can use to recover these potential buyers and convert them into paying customers.
You can easily take back control of your sales with just a few clicks and start recovering abandoned carts right away.
Email Lists
Building and maintaining an email list is one of the most important aspects of online marketing.
With the AliDropship plugin, you can easily create and manage your email lists right from your WordPress dashboard.
This will help you keep in touch with your customers and drive more sales through targeted campaigns.
You can add subscribers manually or import them from other services like MailChimp and Aweber.
Product Variations
Another great feature of AliDropship is the ability to create product variations. This allows you to sell different versions, sizes, and colors of a single item.
For example, let's say someone buys a t-shirt from your store. You can easily offer them another shirt in a different color or size as an upsell without having to create a new product.
This is a great way to increase your average order value and boost your profits.
Unlimited Products
This is undoubtedly one of the best things about AliDropship.
You can add an unlimited number of products to your store if you're using the original plugin instead of WooCommerce plugin. This gives you the ability to sell a wide variety of items and cater to a wider audience.
You also don't have to worry about running out of inventory, as AliExpress will take care of stocking your store with products.

WooCommerce Themes and Extension
If you're not happy with the default themes that AliDropship provides, don't worry.
You can always use WooCommerce to change the look and feel of your store.
On the WooCommerce website, you can find different themes available, and you can even find some for free.
There are also several extensions available for WooCommerce, which will give you more features and flexibility.
Some of the extensions that are available include:
PayPal Standard Gateway: This extension allows you to accept payments from customers via PayPal.
Google Analytics for WooCommerce: This extension helps track your store's traffic and performance.
Advanced Custom Fields for WooCommerce: This droshipping plugin allows you to create custom fields for your products.
Just check out the official WooCommerce website or do a Google search if you want more information on using this platform.
Built-In Image Editor
This is one of the coolest AliDropship premium features you'll enjoy in your dropshipping journey. It allows you to edit your images in AliDropship Chrome Extension, right on the plugin's dashboard, without using an external image editor like Photoshop.
You can resize and crop your images, add filters and effects, and even add text or watermarks within the same platform.
All-in-one Dashboard
With AliDropship, you get a complete dashboard that allows you to do practically everything from one place.
From adding new products, configuring your product feed, creating custom coupons and promotions for the store, editing images or product details – all these tasks can be done in just a few clicks!
Discount Coupons and Promotions
Create discount coupons and promotions for your store in just a few clicks. This allows you to run different types of sales that will encourage customers to buy more products.
You can choose the best discounting options such as percentage-based discounts, fixed discounts, or free shipping.
Popular Payment Gateways and Integrations
AliDropship comes integrated with some of the most popular payment gateways, such as PayPal, Stripe, and others. This allows your customers to pay for their purchases in various ways.
You can also use AliDropship's built-in order management system to keep track of all your sales and orders. Additionally, you can easily manage your customer's orders.
Google Analytics Integration
This WordPress plugin comes integrated with Google Analytics, which allows you to track your client's conversions. This will help you understand where most of your traffic is coming from and what search terms are being used by customers who visit your dropshipping store. This information can be precious for both business analysis and SEO purposes.
Additional Bonus
With the AliExpress cash-back system, you can earn up to 8% commission on each customer's purchase. This bonus is added to the revenue you make every month, so it's like getting paid to do what you love.
Free Auto Updates and Active Support
In addition to the free plugin updates, you can also expect premium support from AliDropship's team of experts. As a result, you will never have to think about updating your store again as AliDropship takes care of everything for you – all at no cost.
Order Tracking System
This feature gives you the advantage of tracking every order that customers place in your store. You can know which product was ordered, who purchased it, how much they paid for it, and when they made the purchase.
This information will help you track trends in customer behavior to make data-driven decisions about future promotions or products to stock in your store.
Automated Pricing
AliDropship's pricing automation ensures that your products are always priced competitively on the global market.
You can set a markup percentage for each product, and AliDropship will automatically adjust the prices of your products to maintain competitiveness while still making a profit.
This feature is essential for scaling your business – you never have to worry about manually adjusting your prices again!
Import Multiple Products at Once
AliDropship also allows you to import multiple products simultaneously, making bulk product imports a breeze.
Add the product URLs to a CSV file, and AliDropship will take care of the rest. This is a great way to populate your store with products from multiple sources quickly.
Fast ePacket Shipping
The ePacket shipping offered by AliExpress provides a quick way to get your products delivered.
AliDropship uses ePacket shipping as the default option for all orders fulfilled from AliExpress sellers who offer this method of shipment.
This means that you can start selling faster than ever before without having to wait for products to arrive from overseas.
Next, in this AliDropship review, we have the themes that will give your store the design you want.
AliDropship Themes
AliDropship comes with a selection of themes you can use to create your store.
Themes are important because they determine your store's overall look and feel. With AliDropship, you'll have access to high-quality themes that will make your store look professional and trustworthy.
Whether you're looking for a free or paid AliDropship theme, you can always get the perfect one for your dropshipping store from these AliDropship theme selections:
Free AliDropship theme.
If you're looking for an easily customizable theme for your AliDropship plugin, then you can't look any further than Rubens. It is perfect for stores of all sizes and offers a wide range of features, including:
Fully responsive design.
Instagram feed.
Multi-column product menu for featuring most popular products.
Large display of images and videos.
You can also use Rubens to create an online store that looks like a professional web developer built it.
All you need to do is install the accessible version of Rubens, and you'll be able to customize it to your needs within minutes.
AliDropship theme available at $67.
There are many great AliDropship themes available at $67. One of the best is El Greco, which offers a premium look with an easy-to-use interface for creating your online store.
You can use El Greco by itself or with Ruebens Theme to create an even more unique-looking shop front.
You get to enjoy enhanced features including:
Easy-to-use interface for adding products to your online store.
Enough space for large images.
Sizeable and quick headers.
Beautiful grids for showcasing products.
Very modern style.
El Greco meets many dropshipping expectations and is worth the extra $67 you pay as it helps set your site up for increased traffic and a higher conversion rate.
AliDropship theme available at $67.
Also available at $67, Van Gogh is yet another great theme you can try out for the success of your dropshipping business. It comes with a very professional look, perfect for any high-end eCommerce shop.
The theme is fully responsive and retina-ready, meaning it looks great on all devices, regardless of their screen size or resolution. The theme also includes several powerful features that will help you increase your online sales.
Some of the notable features include:
A powerful drag-and-drop page builder that lets you easily create custom pages for your store.
Unlimited color options so you can match your shop's branding perfectly.
Easily customizable homepage video.
Eye-catching description blocks.
Trust budges and payment icons for authenticity.
Plus, if you ever need help setting up your shop or customizing your theme, AliDropship's team of experts is always available to assist you.
Free AliDropship theme.
The Raphael AliDropship theme is an excellent option for those looking for a professional and polished eCommerce store design.
It's packed with features that will help you create a stunning shop. Also, it's fully compatible with the AliDropship plugin so that you can take advantage of all the plugin's features right out of the box.
This theme works perfectly for large eCommerce stores or dropshipping stores with different categories they need to highlight. For example, large stores that require large spaces for their digital signs, or video and image display can efficiently market their products using this theme.
Its key features include:
Eye-catching zoom and glow hover effect.
Search bar in the header for quick searches.
Large calls-to-action for more conversions.
Share customer reviews on the homepage.
Built-in Instagram feeds.
Raphael proves to be a potent tool for online stores of all sizes despite being free.
Free Alidropship theme.
The Rembrandt theme is a perfect choice for stores that want an elegant and professional look. It stands out because of its various small squares on the homepage that you can use as calls-to-action for different website functions.
Being among the first original themes available on AliDropship when it first appeared, you can rely on its features to easily align with WordPress and AliDropship.
It comes with a lot of notable features, such as:
A full-width image slider on the homepage.
Beautiful typography.
Customizable colors and fonts.
Built-in social media integration.
Blog section for content marketing.
The theme is perfect for those looking for a simple yet professional look. In addition, its two color options, light and dark, can be customized to match your brand colors.
The theme comes with several sections on the homepage that you can use as product showcases or call-to-action buttons. You can also easily integrate social media into this website without any problems.
AliDropship theme available at $67.
The Picasso theme is a stylish and creative WordPress/AliDropship theme perfect to showcase and sell single products.
It comes with a countdown timer that acts as a powerful sales booster to increase your conversion rates.
The theme is fully responsive and retina-ready to look great on all devices. It also features a parallax scrolling effect, which offers an immersive browsing experience for visitors.
Its outstanding features include:
Product features emphasizer.
Call-to-action, scarcity, and urgency boxes available on the home screen.
Customer reviews.
Customizable product details page layout, colors, and fonts.
New features and free theme updates.
Overall, this WordPress/AliDropship theme will help you create a robust online store for your business without much hassle. And the best part is that it's available for a $67 one-time fee.
AliDropship theme available at $67.
Andy Warhol looks excellent on all devices. It is arguably one of the best premium themes currently available on the market. In addition, it features a fully responsive layout that works on all devices, including your smartphone.
Its carefully-crafted side shopping cart and page enable users to enjoy unparalleled usability, speed, and convenience.
The theme is well-documented that will help you set it up in no time regardless of your technical skills. There are also several premium features available to take advantage of, including:
Unlimited colors options for main elements.
Slider customization tools.
Different header layouts.
Consistent and intuitive mobile navigation.
Qualitative and quantitative high-converting checkout, etc.
You can optimize these features to increase sales on your eCommerce store and remain in business for an extended period.
AliDropship Add-Ons
AliDropship Add-Ons will allow you to integrate other services with your store easily. This makes it easier for you to manage your business and automate various processes.
The following are some of the notable Add-Ons available:
AliDropship Facebook Business Add-On
$27 one-time fee.
The Facebook business add-on allows you to connect your AliDropship store with your Facebook page. This will help you increase traffic and sales in your store as you connect with your social media family and woo them into buying from your store.
AliDropship Countdown Timer Add-On
$19 one-time fee.
The countdown timer add-on allows you to create urgency for your products and increase conversion rates.
AliDropship Wish List Add-On
$49 one-time fee.
The wish list add-on is a great way to increase engagement with your store and create loyalty. It also allows you to capture emails from customers who may not have the financial means to buy at that present time but would like to stay in touch for when they do.
AliDropship Reviews Page Add-On
$29 one-time fee.
This add-on is one of the most popular among AliDropship users as it allows you to not only ask for reviews from customers but also display those publicly.
AliDropship Social Rabbit Plugin
$69 one-time fee.
This plugin is a fantastic tool that not only automates your social media posts but also provides you with a host of other features. With this plugin, you can:
Automatically publish new products to Facebook, Twitter, and Pinterest.
Schedule your posts ahead of time for optimal results.
Get detailed insights into how each post performs.
AliDropship SEO Image Optimizer Add-On.
AliDropship SEO Image Optimizer
$39 one-time fee.
With an SEO image optimizer, you can easily improve your website speed and rank higher on search engines.
It also helps you optimize your images for faster loading times across all devices and get detailed insights into how each post performs in SEO, CTR, etc.
Not only does this add-on help with your search engine ranking, but it also converts your visitors into customers by improving their customer experience.
AliDropship Promo Banner Add-On
$19/mo.
The Promo Banner add-on allows you to create attractive banners for your promotions and sale events.
You can have the ability to set a specific date range, category filter, location filter, or other filters so that only relevant customers get targeted with your eCommerce ads.
It's an ideal add-on for showcasing your offers to your target customers anytime you need to promote sales for specific products.
There are many other add-ons that you can purchase for your AliDropship store, but the above selections should give you a good starting point.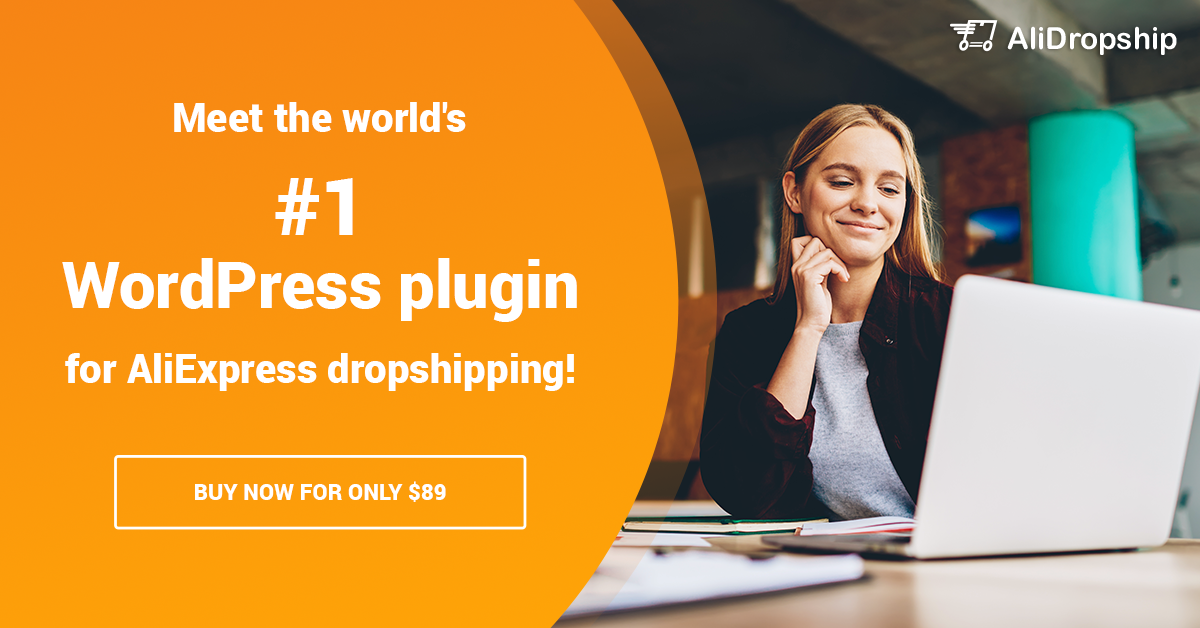 AliDropship Pricing (Special Discount)
An AliDropship license is priced at a flat rate of $89, which you pay for a single license. Users who need more than one license can opt for multiple payments of the same amount for the number of licenses they need.
A license key is only valid for one website, but you can open multiple eCommerce dropshipping stores and pay the $89 for an AliDropship license for each website.
However, if you wish to transfer your current dropshipping business to a new website, your existing license can be revoked and re-activated on the new site for free.
The overall cost for using an AliDropship plugin varies depending on the number of paid add-ons you're using on your website. Otherwise, the cost could remain a constant $89, considering that you don't have to worry about yearly renewal fees for updates and support or lifetime subscriptions.
If you're serious about getting started, I have a special discount only available through the link below. Get 25% off of the AliDropship plugin with the code GETPLUGIN25.
AliDropship Review: Frequently Asked Questions (FAQs)
Some of the most commonly asked AliDropship questions include: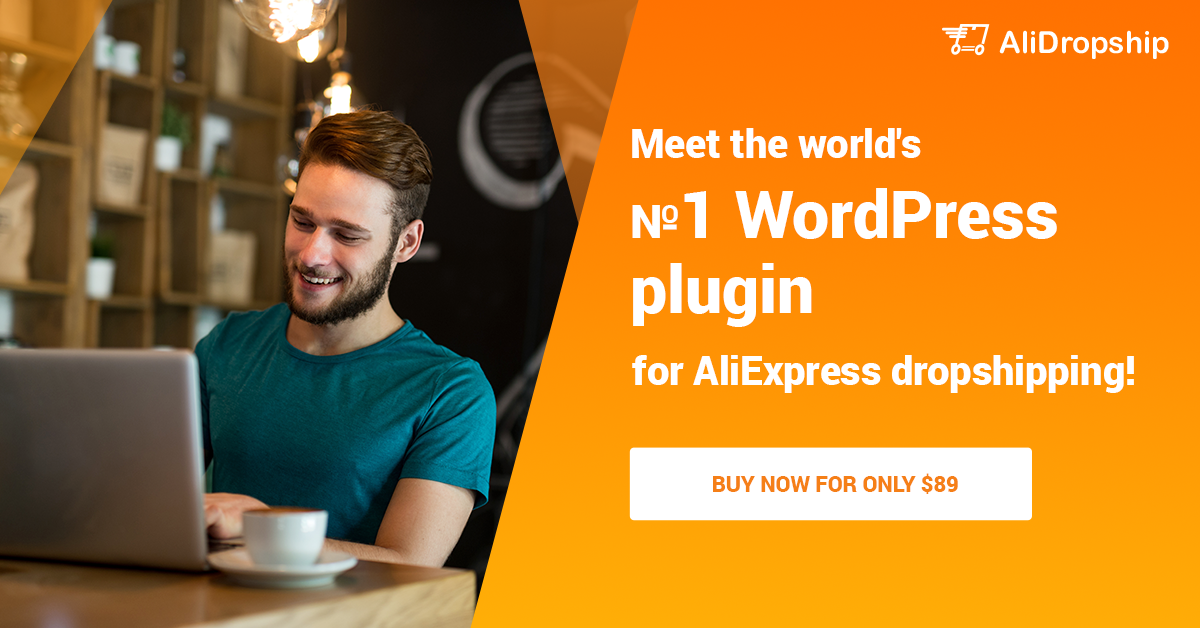 AliDropship Review: Conclusion
Overall, the AliDropship plugin is an excellent dropshipping solution for new and experienced online entrepreneurs.
It's an all-inclusive platform that provides you with everything needed to start your own successful eCommerce business in one package at a very affordable price.
I love the AliDropship plugin because it comes with a ton of great features right out of the box – like built-in order tracking, automatic product updates, and more.
Plus, the AliDropship team is constantly working on adding new features and improvements to the plugin, so you can be confident that you're getting the most up-to-date and powerful solution possible.
If you're looking for a reliable dropshipping plugin for your eCommerce website, you can't go further than the AliDropship plugin.